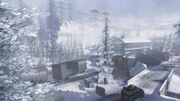 Derail is a large multiplayer map in the ever so popular Call of Duty: Modern Warfare 2. The map's selling point is a derailed train right in the middle of it.
Features:
Edit
The map takes place in Russia.
The map has a gas station called Nova's Gas Station in it.
There is a lot of snow.