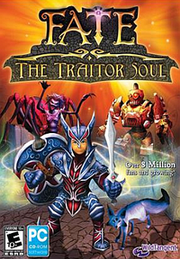 Fate: The Traitor Soul is an expansion pack to the RPG Fate. The game is developed by Wild Tangent and only available on the PC. This is the third Fate game.
Gameplay:
Edit
The gameplay is similar to that of previous installments of the series with the addition of some new features. The three new player character races include intrinsic stat bonuses. Cosmetically different pets are included, adding a fox, boar and mechanical wasp to the original selection of dog and cat. New items such as capes and earrings are added, as are new spells and monsters.
Notable interface changes include the addition of an inventory auto-sort button and the ability to switch between two sets of equipped weapons.
In addition to the new Chamber of Trials dungeon, the towns and dungeons from Fate: Undiscovered Realms are included in a mostly unaltered state. Also appearing in boxed versions are the town and dungeon of Grove from the first game, again in a mostly unaltered state.
The player character takes up the challenge of a mysterious Traveler in the Temple of Fate and must defeat the Nemesis along with its minion called the Phur, in the depths of a dungeon called the Chamber of Trials.