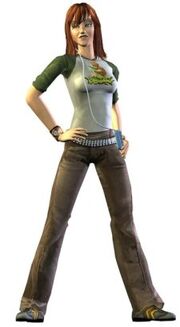 Felicity Usher is a character in The Sims 2. She is usually very well organized.
Relationships:
Edit
Felicity is often with Ossie, but most of the times a male Sim beginning the game will go out with her first. Since she is at the first house, the player's Sim needs to socialize with her to progress in the game. She hardly rejects social interactions, and is very easy to make friends with. She is also one of the few Sims that will not reject sock puppets.
Personality:
Edit
Felicity is controllable only if married to the player's character, and in freewill she will often go to the fridge and eat shabu-shabu. She has excellent cleaning skills and will clean up immediately if there is rubbish on the floor, which is the opposite of Ossie's lifestyle. She will often turn on the stereo, and in the middle of the night she will hang around watching TV or dancing her heart out by the stereo. She has a romance aspiration. She's a queen under the covers and lusts for love around the clock. Apart from with housemates, she lives a lonely life and never answers the door when someone calls. She visits other houses though, and will wait all day for the door to be answered. In all, she's good all round.
Appearance:
Edit
She is attractive, with brown hair down to her shoulders. She is normally seen wearing black trainers, with maroon pants and a white short-sleeved shirt with blue sleeves and a red bat on the chest.