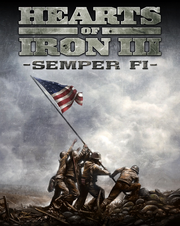 Hearts of Iron III: Semper Fi or Hearts Of Iron III is a prequel to Hearts Of Iron. It is a PC World War II strategy game developed by Paradox Development Studios and is rated E10+.
Gameplay:
Edit
Hearts of Iron III allows the player to take control of almost any nation that existed or even plausibly could have existed during the period of 1936–1948, guiding it through World War II. A variety of decisions regarding the armed forces production, research, diplomacy, politics and espionage is the focus of the game.
The game centers around three factions: the Axis (led by Germany), the Allies (led by Great Britain), and the Comintern (led by the Soviet Union). All other nations can slowly align with one of the factions.
Resources found in the game include: energy, metal, rare materials, and oil. The first three are required for industrial production, while oil is converted to fuel for vehicles, planes and ships.
The scope of military organization ranges from brigades to entire theaters of operation.
Reception:
Edit
Hearts of Iron III initially received a mixed reception because the game shipped with a large number of bugs in the initial release. After several patches eliminated many bugs, reception improved and the game got generally positive reviews. In 2009 December it had a combined average of a 77 on Metacritic and a 79% on Gamerankings.
Along with full expansion packs, there has been several smaller DLC releases.
Hearts of Iron III: Dies Irae Götterdämmerung
Hearts of Iron III: Mega German Spritepack
Hearts of Iron III: German Spritepack 2
Hearts of Iron III: US Pack
Hearts of Iron III: Soviet Music Pack
Hearts of Iron III: Japanese Infantry Spritepack
Hearts of Iron III: German Infantry Spritepack
Hearts of Iron III: Soviet Spritepack
Hearts of Iron III: German Spritepack
Hearts of Iron III: Soviet Infantry Spritepack
Hearts of Iron III: Dies Irae Stars and Stripes
Hearts of Iron III: US Infantry Spritepack
Hearts of Iron III: Sounds of Conflict