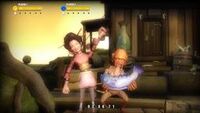 Rag Doll Kung Fu: Fists Of Plastic is a downloadable brawler for the PlayStation 3. It was released on April 29, 2009 and is rated E10+.
Gameplay:
Edit
It features new gameplay using the buttons of the PlayStation controller to make the character punch and kick. It also features "Chi Moves" like the Lighting ball or Meditation and a character designer.
Players can perfect their Kung Fu skills in the Solo Adventure and also take their characters online with a variety of addictive free-for-all and team-based multiplayer modes, including King of the Hill, Assassin and Capture the Fish. Perfect for any social occasion, Rag Doll Kung Fu: Fists of Plastic offers frantic multiplayer action with up to 4 players locally or online.
Unlike the original game which was rated M this game is rated E10+.