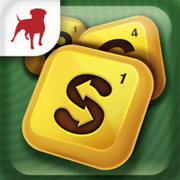 Scramble With Friends is a Words With Friends spinoff. It is developed by Zynga and is available on mobile devices and on the PC/Mac.
Gameplay:
Edit
Players try to find as many words as possible in a jumbled 4x4 grid of letters by connecting adjacent letters to form words within a two minute time frame - though with extra features and a different scoring system. Words may be formed vertically, horizontally, and diagonally.Scramble with Friends is one of the top ranking games in the iOS application store, available as both a free ad-supported version and an ad-less paid version. Each game consists of three rounds played in series and the winner is the player with the highest total score of all three rounds. The second round introduces tiles with double letter and word multipliers, the third round triple multipliers. The scoring system favours both longer words and words containing less common letters.
There are four 'power-ups' which players may employ; Freeze which grants the player a few seconds of extra time, Inspiration which highlights words for the player to play, Scramble which rotates/flips the board granting the player a new perspective, and Vision which gives the player 3 words to find and if all words are found, gives the player a time bonus.
A token system operates, players must pay one token per round and a second token if they wish to utilise two powerups in a round rather than one. A new token is 'earned' every 20 minutes (regardless of whether the app is open). Extra tokens are freemium, and the ad-free version boasts a faster token earning rate.