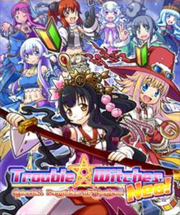 Trouble Witches Neo! is a downloadable bullet hell shooter for the Xbox 360. It is developed by SNK Playmore and is a remake of an old game.
Gameplay:
Edit
Trouble Witches Neo is a game for shooting maniacs featuring young witches, alchemy, and a Magic Barrier game system you can master in order to turn enemy bullets into gold! 8 cute maid-witches are ready to challenge this frantic "Bullet Hell" horizontal shooter for the highest scores!
In addition to the local 2P CO-OP play in offline mode, you can also play Online in cooperation with players worldwide via Xbox Live! Despite its cute and magical environment, Trouble Witches Neo is truly meant for hardcore players!